Draytek Vigor 2927 LTE Series
LTE Cat.6 y Wifi 11ac Wave 2 para conectividad de banda ancha

---
La serie Vigor 2927 LTE es un router dual WAN ethernet con módem embebido 4G/LTE. Tiene slot para poder alojar dos SIM (solo una online al mismo tiempo) y cumple las especificaciones LTE Cat 6 para alcanzar velocidades de hata 300/50 Mbps (Bajada/Subida). Soporta balanceo y backup para mantener la conectividad de las empresas. Incluye funciones de VPN, QoS, políticas de rutado, firewall, filtrado de contenido, gestión de ancho de banda, portal cautivo hotspot, y mucho más. Es el router definitivo con todo lo que una empresa pequeña o mediana puede necesitar. El modelo AC de esta serie, además incluye soporte de Wifi 802.11ac Wave 2. Impresionante.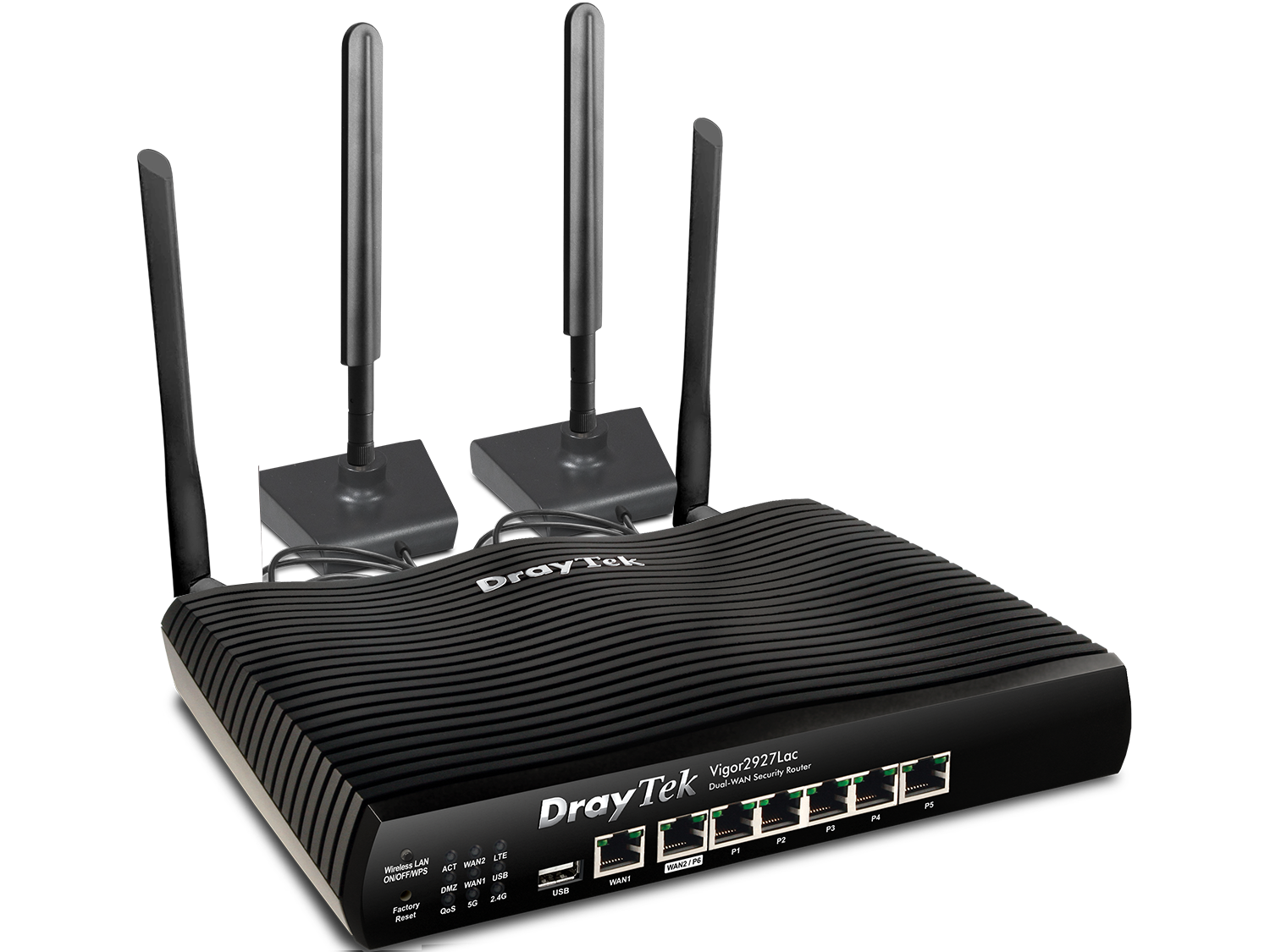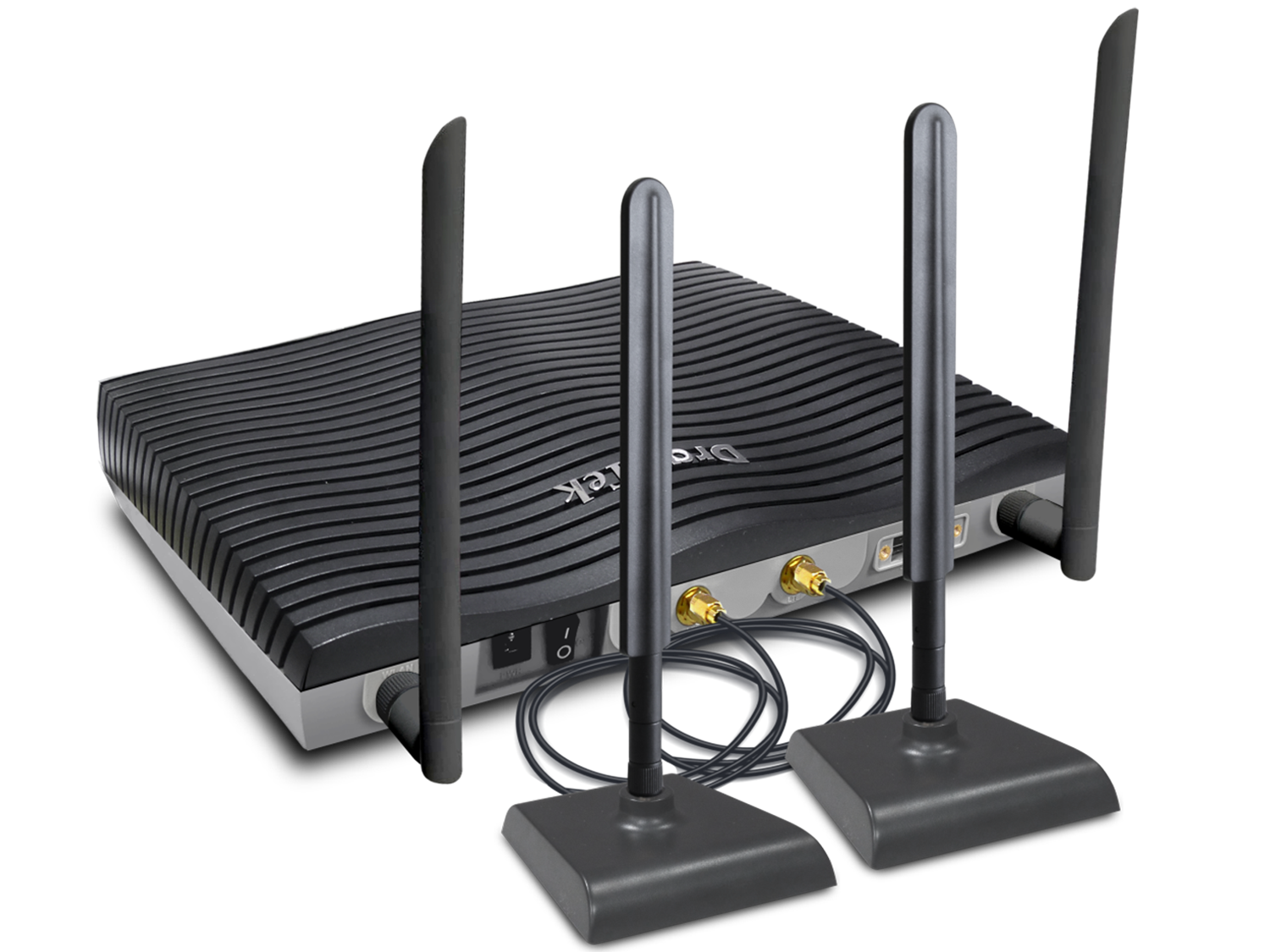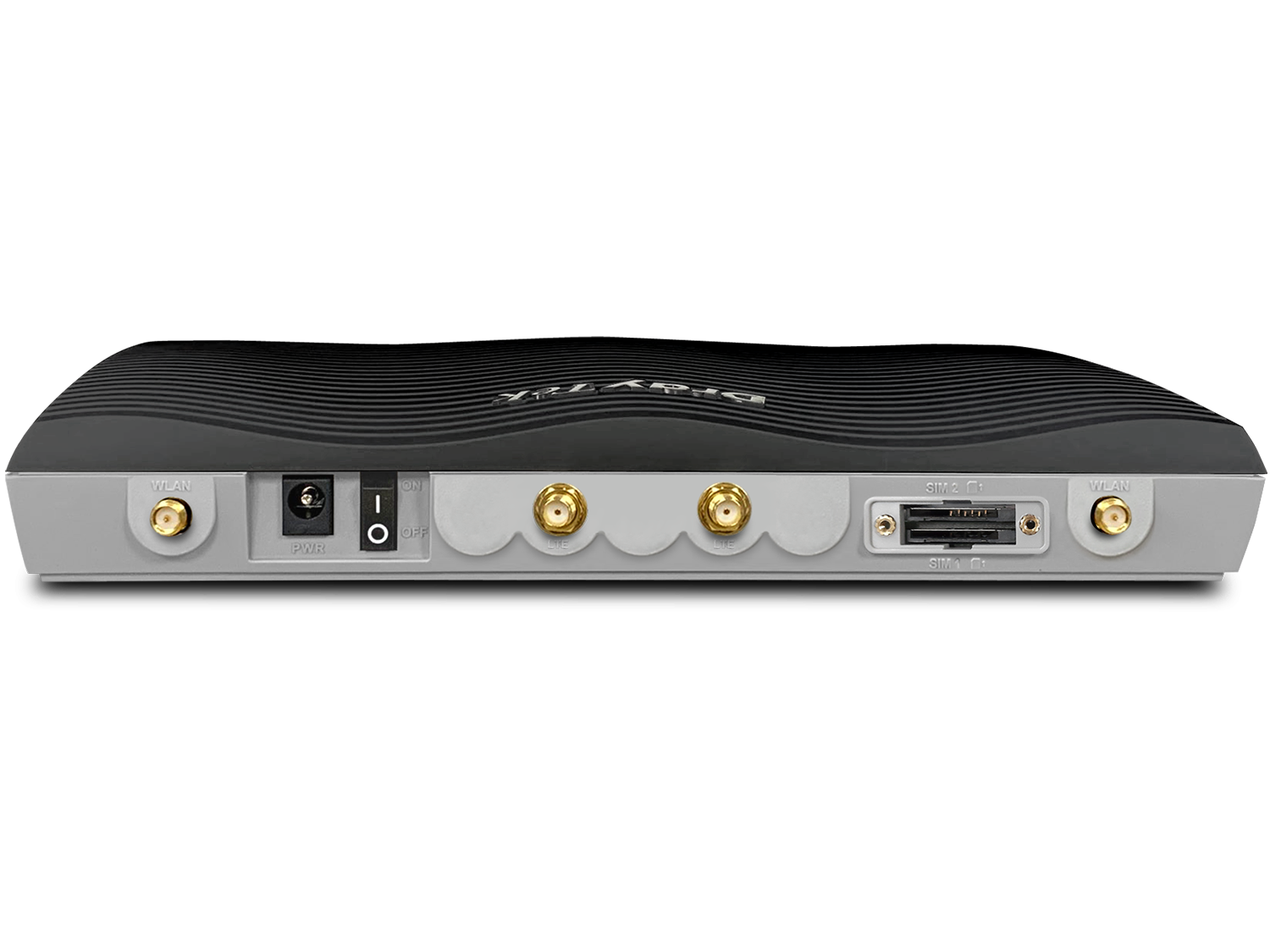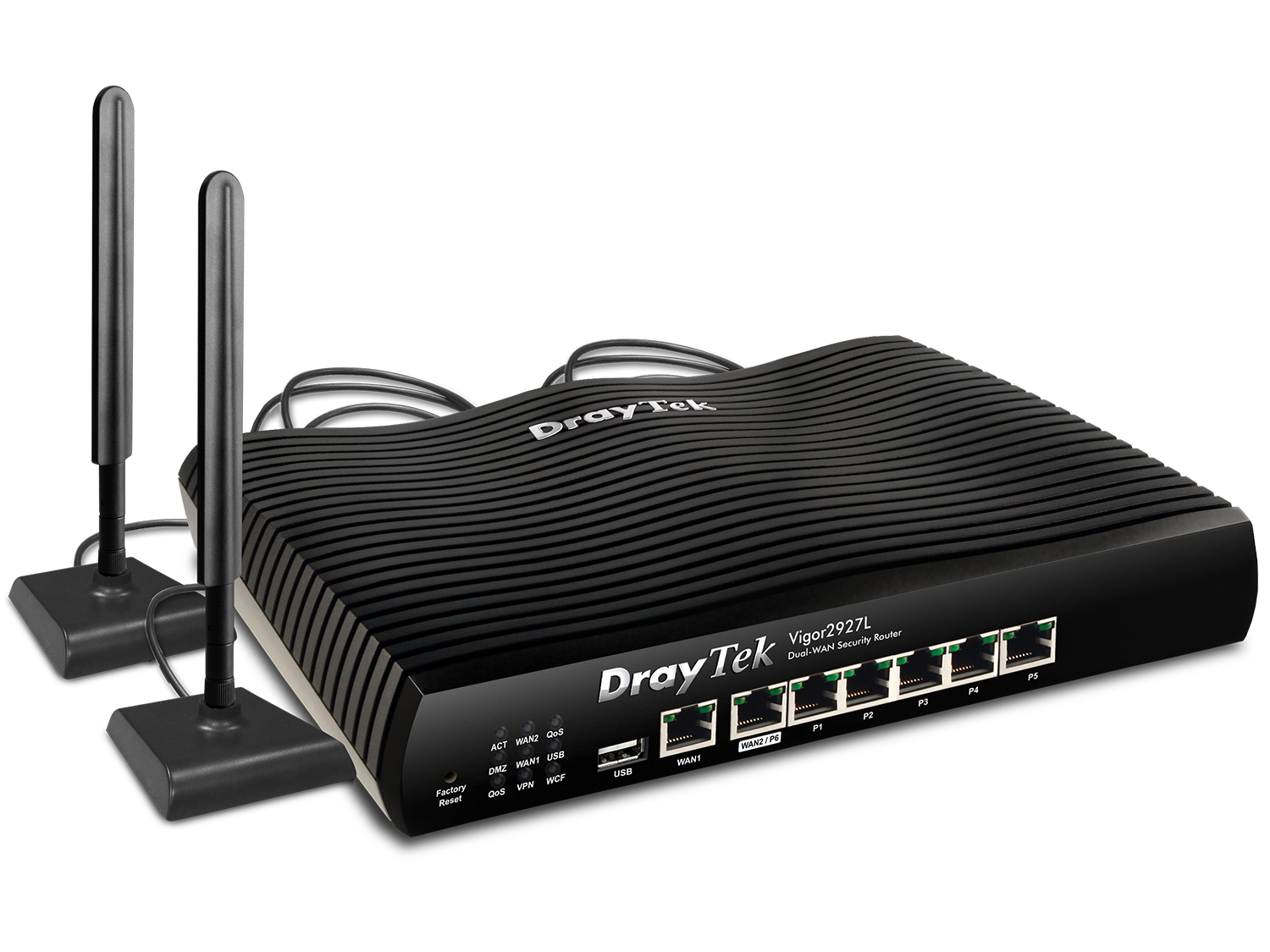 Interface

Fixed WAN Port
1x GbE RJ-45
WAN/LAN Switchable Port
1x GbE RJ-45
Fixed LAN Port
5x GbE RJ-45
SIM Slot
2x Standard-Sized (1 SIM online at a time)
USB Port
1x USB 2.0 for 3G/4G/LTE USB modem, storage, printer or thermometer
LTE Antenna
2x External Dipole
Gain: 3 dBi
Wireless Antenna
2x External Dipole
Gain: 3 dBi for 5GHz, 2.5 dBi for 2.4GHz
(ac model)
2.4G WLAN
802.11n 2x2 MIMO 400Mbps (ac model)
5G WLAN
802.11ac Wave 2 2x2 MU-MIMO 867Mbps (ac model)

Performance

NAT Throughput
800 Mbps
NAT Throughput w/ Hardware Acceleration
940 Mbps (Single WAN)
1.8 Gbps (Dual WAN)
IPsec VPN Performance
290 Mbps (AES 256 bits)
SSL VPN Performance
120 Mbps
Max. Number of NAT Sessions
60,000
Max. Concurrent VPN Tunnels
50
Max. Concurrent OpenVPN + SSL VPN
25

LTE

LTE Category
6
Max. Data Rate
300 Mbps downlink, 50 Mbps uplink
FDD Band
1 (2100MHz), 3 (1800MHz), 7 (2600MHz), 8 (900MHz), 20 (800MHz), 28 (700MHz)
TDD Band
38 (2600MHz), 40 (2300MHz)
WCDMA (3G) Band
1, 8
SMS Gateway
Learn More
For other band availability, please contact your local DrayTek distributor or us

Internet Connection

IPv4
PPPoE, DHCP, Static IP, PPTP/L2TP
IPv6
PPP, DHCPv6, Static IPv6, TSPC, AICCU, 6rd, 6in4 Static Tunnel
802.1p/q Multi-VLAN Tagging
Multi-VLAN/PVC
Wireless WAN
2 (ac model)
3G/4G/LTE WAN with USB modem
Load Balancing
IP-based, Session-based
WAN Active on Demand
Link Failure, Traffic Threshold
Connection Detection
ARP, Ping
WAN Data Budget
Dynamic DNS
DrayDDNS

LAN Management

VLAN
802.1q Tag-based, Port-based
Max. Number of VLAN
16
Number of LAN Subnet
8
DHCP Server
Multiple IP Subnet, Custom DHCP Options, Bind-IP-to-MAC
LAN IP Alias
Wired 802.1x Authentication
Port Mirroring
Local DNS Server
Conditional DNS Forwarding
Hotspot Web Portal
Hotspot Authentication
Click-Through, Social Login, SMS PIN, Voucher PIN, RADIUS, External Portal Server

Networking

Routing
IPv4 Static Routing, IPv6 Static Routing, Inter-VLAN Routing, RIP, BGP
Policy-based Routing
Protocol, IP Address, Port, Domain, Country
High Availability
DNS Security (DNSSEC)
IGMP
IGMP v2/v3, IGMP Proxy, IGMP Snooping & Fast Leave
Local RADIUS server
SMB File Sharing
(Requires external storage)

VPN

LAN-to-LAN
Teleworker-to-LAN
Protocols
PPTP, L2TP, IPsec, L2TP over IPsec, SSL, GRE, IKEv2, IKEv2-EAP, IPsec-XAuth, OpenVPN
User Authentication
Local, RADIUS, LDAP, TACACS+, mOTP
IKE Authentication
Pre-Shared Key, X.509
IPsec Authentication
SHA-1, SHA-256
Encryption
MPPE, DES, 3DES, AES
VPN Trunk (Redundancy)
Load Balancing, Failover
Single-Armed VPN
NAT-Traversal (NAT-T)
DrayTek VPN Matcher

Firewall & Content Filtering

NAT
Port Redirection, Open Ports, Port Triggering, DMZ Host, UPnP
ALG (Application Layer Gateway)
SIP, RTSP, FTP, H.323
VPN Pass-Through
PPTP, L2TP, IPsec
IP-based Firewall Policy
Content Filtering
Application, URL, DNS Keyword, Web Features, Web Category* (*: subscription required)
DoS Attack Defense
Spoofing Defense

Bandwidth Management

IP-based Bandwidth Limit
IP-based Session Limit
QoS (Quality of Service)
TOS, DSCP, 802.1p, IP Address, Port, Application
VoIP Prioritization

Wireless LAN (ac model)

Number of SSID
4 per radio band
Security Mode
OWE, WEP, WPA, WPA2, Mixed(WPA+WPA2), WPA3
Authentication
Pre-Shared Key, 802.1X
WPS
PIN, PBC
WDS
Repeater (5GHz only)
Access Control
Access List, Client Isolation, Hide SSID, WLAN Scheduling
AirTime Fairness
Band Steering
MU-MIMO
(5GHz Only)
WMM

Management

Local Service
HTTP, HTTPS, Telnet, SSH v2, FTP, TR-069
Config File Export & Import
Config File Compatibility
Vigor2926 LTE
Firmware Upgrade
TFTP, HTTP, TR-069
2-Level Administration Privilege
Access Control
Access List, Brute Force Protection
Notification Alert
SMS, E-mail
SNMP
v1, v2c, v3
Syslog
Managed by VigorACS
Central VPN Management
8 VPN
Central AP Management
20 VigorAP
Mesh Network
7 VigorAP (ac model)
Central Switch Management
10 VigorSwitch

Physical

Power Supply
DC 12V @ 2.5A
Max. Power Consumption
27.6 watts (Lac model)
Dimension
241mm x 165mm x 44mm
Weight
830g (Lac model)
Operating Temperature
0 to 45°C
Storage Temperature
-25 to 70°C
Operating Humidity (non-condensing)
10 to 90%
Certificate
Especificaciones
Router-Balanceador de altas prestaciones para Pymes con soporte de LTE
2 Puertos WAN Ethernet Gigabit
2 Puertos USB para módem 3G/4G ó almacenamiento
Hasta 5 WANs para balanceo o backup
Wifi de banda dual integrado 802.11ac Wave 2 , que desarrolla portadora de hasta 1733Mbps + 300Mbps (Modelo ac)
50 VPNs simultáneas
Firewall SPI con control de filtrado por palabras claves en URL, Categorías de sitios o Bloqueo de APPs
Gestión Centralizada para puntos de acceso y switches de Draytek
Nuevo soporte de DrayDDNS y LetsEncrypt
CVM (Central VPN Management)
50 túneles VPN tunnels con protocolos completamente seguros
Balanceo de carga y backup de VPN para aplicaciones sitio a sitio
Gestión de red flexible
Soporta Smart Monitor Traffic Analyzer (50 nodos)
WiFi AC 2.4GHz, 5GHz y Gestión Central de APs
Controladora Wifi para hasta 20 VigorAP
Gestión Centralizada de APs de Draytek integrada para la implementación de puntos de acceso VigorAP inalámbricos ( VigorAP 802, VigorAP 903, VigorAP 912, ... )
Integrado con punto de acceso inalámbrico IEEE 802.11ac
Soporta con VigorACS Central Management para ser gestionado centralizadamente vía TR069.
Routing y Aceleración por Hardware
Con el acelerador de hardware, el Vigor2927 esta capacitado para proporcionar conexiones a través de 2 WAN de alta velocidad simultáneamente. Además admite hasta 60.000 sesiones NAT. La aceleración por hardware puede proporcionar un rendimiento del router de hasta 940 Mbps en una WAN única y un rendimiento combinado de 1,8 Gbps en ambas WAN. Además también funciona para el Tráfico IPSEC.


Portal Hotspot Web
Se puede ofrecer acceso de cortesía a sus clientes y proveedores a través de un HotSpot integrado en el equipo. Saber más
Gestión de ancho de banda
Prevenir que un dispositivo o varios utilicen de forma inadecuada la conexión a internet se puede realizar a través de políticas de limitación de ancho de banda, límite de sesiones o QoS.
Firewall y Filtrado por Control de Contenido
Puede filtrar páginas web por su URL, palabra clave o bloquear acceso a contenidos inseguros o inapropiados.
DrayDDNS
Incorpora soporte del servicio gratuito de Draytek DrayDDNS para poder acceder a su router por nombre. Saber más
Gestión Centralizada de AP
Se puede utilizar el Vigor2927 como controladora wireless para configurar, mantener y monitorizar VigorAPs. Saber más
Gestión Centralizada de Switches
Configurar VLANs de manera fácil desde el router y gestionar centralizadamente los Switches es posible con la función SWM. Saber más
DataSheet, Manuales y firmware. Si vas a actualizar tu sistema asegúrate de tener un backup completo y de la compatilbilidad de la firmware
Filename
Date
Size
CE
Vigor2927L_Lac_CE_DoC_RED_en_200324
2020-08-03
40.46 KB
Vigor2927_CE_DoC_EMCD_class_B_en_200302
2020-08-03
40.89 KB
Vigor2927_ax_Vax_CE_DoC_RED_en_210609
2021-09-07
360.59 KB
Vigor2927ac_CE_DoC_RED_en_200207
2020-08-03
40.38 KB
firmware
v4.4.0
DrayTek_Vigor2927_V4.4.0_02release-note
2022-07-21
16.06 KB
FIRMWARE
2022-07-21
372 B
Vigor2927_v4.4.0_en
2022-05-17
38.92 MB

There are no files to list.

2927 datasheet-20210914
2021-09-14
325.17 KB
DrayTek_QS_Vigor2927_RF_V1.4
2021-09-07
2.13 MB
DrayTek_QS_Vigor2927_Wired_V1.3
2021-07-30
513.34 KB
DrayTek_UG_Vigor2927_V1.4
2021-11-25
18.33 MB
Despliega la lista para saber algunas cosas que puedes hacer con tu router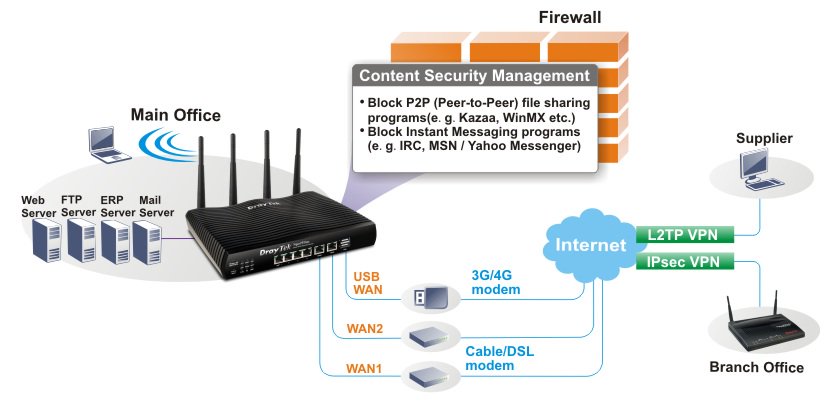 Balanceo de Carga y Backup